Grab: special edition
Welcome to [Film Grab], glad we grabbed your attention!
[Film Grab] is a rubric that contains a bunch of movie recommendations.
The heading's title is inspired/stolen from an actual website called [Film Grab] that I vividly recommend!
For each movie, you can find its synopsis and some personal reviews.
This is a special edition dedicated to give you recommendations from some movies that were screened during the Tunisian film festival [JCC].
1.Titane (2021)
Following a series of unexplained crimes, a father is reunited with the son who has been missing for 10 years.
Titane is an intense horror film with a touching story about family at its centre. It explores sensitive themes like gender fluidity and the relationship between parent and child. It's rich engaging and too shocking for some viewers resulting in them leaving within the first part of the movie. I absolutely loved it.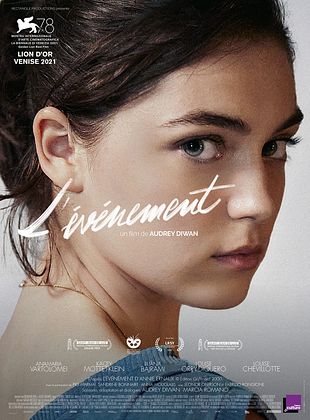 Directed by Audrey Diwan.
(France)
2.Happening  » l'évenement  » (2021)
An adaptation of Annie Ernaux's eponymous novel, looking back on her experience with abortion when it was still illegal in France in the 1960s.
A beautiful feminist film. Excellent and unique cinematography as well as excellent acting and story. I think it's a must-watch to understand the real struggle. Quite the deserving Golden Lion winner. Highly recommend it.
Directed by Lemohang Jeremiah Mosese.
South Africa.
3.This is not a Burial, it's a Resurrection  (2019)
When her village is threatened with forced resettlement due to reservoir construction, an 80-year-old widow finds a new will to live and ignites the spirit of resilience within her community. 
It's probably the most gorgeously shot film I've seen so far this year, and so quietly devastating. Everything about this film is exquisite. It is visually breathtaking and audibly electrifying. The themes of faith , loss and grief are all tackled masterfully. Go see it.
Directed by Samaher Alqadi
Palestine
4.As I Want (2021)  
Cairo, January 25, 2013: A series of sexual assaults took place in Tahrir Square on the second anniversary of the revolution. In response, a massive surge of angry women swept through the streets and Samaher Alqadi joined them.
Through this documentary you'll get to feel the amount of trauma that Arab women go through on a daily basis and regardless of their age; they are being disproportionately affected by sexual oppression. This film contains multiple sexual harassments filmed in the streets of Cairo by Samaher who courageously showed how fearless she is as she kept reporting real life experiences , aiming to fight for the mere right to not be assaulted .
Directed by Wes Anderson.
5.French Dispatch (2021)
A love letter to journalists set in an outpost of an American news paper in a fictional 20th century French city that brings to life a collection of stories published in " The French Dispatch Magazine".
During nearly two hours the film will grab your attention in an unusual way; The visuals are strikingly magnificent. They illustrate the stories and complement the script very well. The smooth shifts between Color and Black & White are significant to the storytelling and are accompanied by shifts in the scaling of the images. The complexion of the film from its decor to visuals are striking. Not to mention the cast that add another dimension with their meticulous attention to details. 
Directed by Justin Kurzel
Australia
6.Nitram  (2021)
Living a life of isolation and frustration, a young man develops an unexpected friendship with a reclusive heiress. When that relationship meets its tragic end, his loneliness and anger culminates into the most nihilistic and heinous of acts.
Nitram is a new Australian Drama/Psychological Drama released the 30th September 2021. The film was going to inevitably be controversial due to the atrocity of the event told through the lens of Justin Kurzel. Although, from the point of view of the viewer, the director of the movie is not force-feeding us his opinion. The events are told as authentically as possible but with a certain pleasant aestheticism as well as a good amount of discomfort in certain key scenes. The film discusses various sensitive topics and asks questions that we frequently ask ourselves when thinking of murderers/ psychopaths and all the figures that committed severe crimes that history will never forget. However, Nitram, whilst asking these questions and ponders quite a lot on the psychology of the character, does not like to give answers and straightforward cause to consequence reactions. This movie truly lets you perplex and makes you think on certain disturbing aspects of humanity while still discussing the importance of banning guns and not allowing anyone to buy them (or at least impose certain regulations).
Directed by AbdelHamid Bouchnak
Tunisia.
7.Papillon D'Or (2021)
Moez a thirty-something policeman with a bloody past meets a little boy with whom he sets out on a fantasy journey.
The DOP, Hatem Nechi, did a fascinating job in this movie creating an aesthetically pleasing atmosphere accompanied with a fine work of VFX that gave the movie its dreamy and fantastical vibe. Yet the cinematography and the graphics were not completed with a decent plot considering its shallowness, lack of coherence, unnecessary cumulation of elements, excessive use of soundtrack and too much exposition.